The Kickstarter is now nearly halfway over, and we'd like to kick it up a notch with some tangible rewards for our backers beyond credits and subscriptions.
Randomocity Subscriptions!
Randomocity is a quarterly print and digital Zine dedicated to delivering fuel for your imagination in the way of fun and interesting roleplaying game adventures, NPCs, and ideas. The Zine is delivered as an exclusive, small-batch high-quality print version directly from the creator, via digital PDF. The exclusive, small-batch "dead tree" versions are full color and come printed on high quality paper that you won't find anywhere else. Randomocity is the fanzine with an art edge.
Backers $25 and up will get a 1 year PDF subscription to Randomocity, and backers $100 and up will enjoy both the print and PDF for 1 year!
Exclusive Tavern Keeper Minions T-Shirts
These t-shirts are something we planned to produce just for our staff for conventions. But, we've decided to share them with our backers, so everyone can be a Tavern Keeper Minion like us. :)
T-shirts are available as an add-on of $20 to any backer tier, or will be included for FREE for backers $75 and up.
Portraits "On-Air" this Tuesday, Nov 5!
Kristi Centinaro (also known as inkjetcanvas) will be drawing character portraits on-demand and live on Google Hangouts On Air on Tuesday, Nov 5 at 5:00 pm PDT! Participants will be able to link their Tavern Keeper characters in chat during the Hangout, and she'll draw as many as she can in the 1-2 hour window, and answer any questions you might have.
This is a great chance to have your character immortalized in a custom piece of art!
The event will be posted on Tavern Keeper's Google + community page.
Here's a peek at some of the past portrait contest winners:
Recent Tavern Keeper updates – Play-By-Post Dice Roller
If you haven't seen the latest update to Tavern Keeper, it's a biggie! We've just added inline dice rolling to Play-By-Post Roleplays. You can now carry on an entire game on Tavern Keeper!

We've also added the ability to carry on an OOC conversation in a tab tucked away from your roleplay, out of sight unless you need it.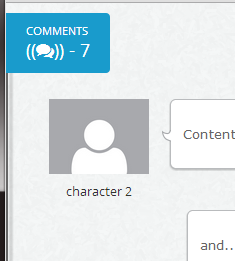 Thanks everyone for your continued support. We've got a long way to go, but we're not going to stop fighting to get there!